SQUARE Director Chair | Teak

It can be classified as a small armchair on account of its generous size. As a matter of fact, its seat is the widest.
This chair is made of natural teak and has stainless-steel hardware. Once folded, it stays upright on its own. It comes with seat and backrest in two-ply Borgomanero ecru cotton, which is currently the best quality cotton on the market. It has been stabilized against ultraviolet light (will not fade when exposed to the sun) and treated against mold.
Extra seats can be supplied so as to always have spares available. Guaranteed for outdoor use and washable at 40°.
Custom colours of acrylic or natural fabrics and synthetic leather are available upon request. Seats and backrests can be easily removed for washing or replaced.
SQUARE Director Chair | Teak

In the Synthetic Leather version, the seat and backrests are in synthetic leather, with particularly comfortable padding.
Very suitable for matching on board with leather sofas, it is possible to have colors on request.
SQUARE Director Chair | Teak

Natural is a fabric made of perforated PVC which requires no maintenance.
You can sit on this chair with a wet swim suit then simply hose it down or wash it with a brush and soapy water. It dries rapidly even with no sun and with only a light breeze, which will pass through the small holes of the fabric.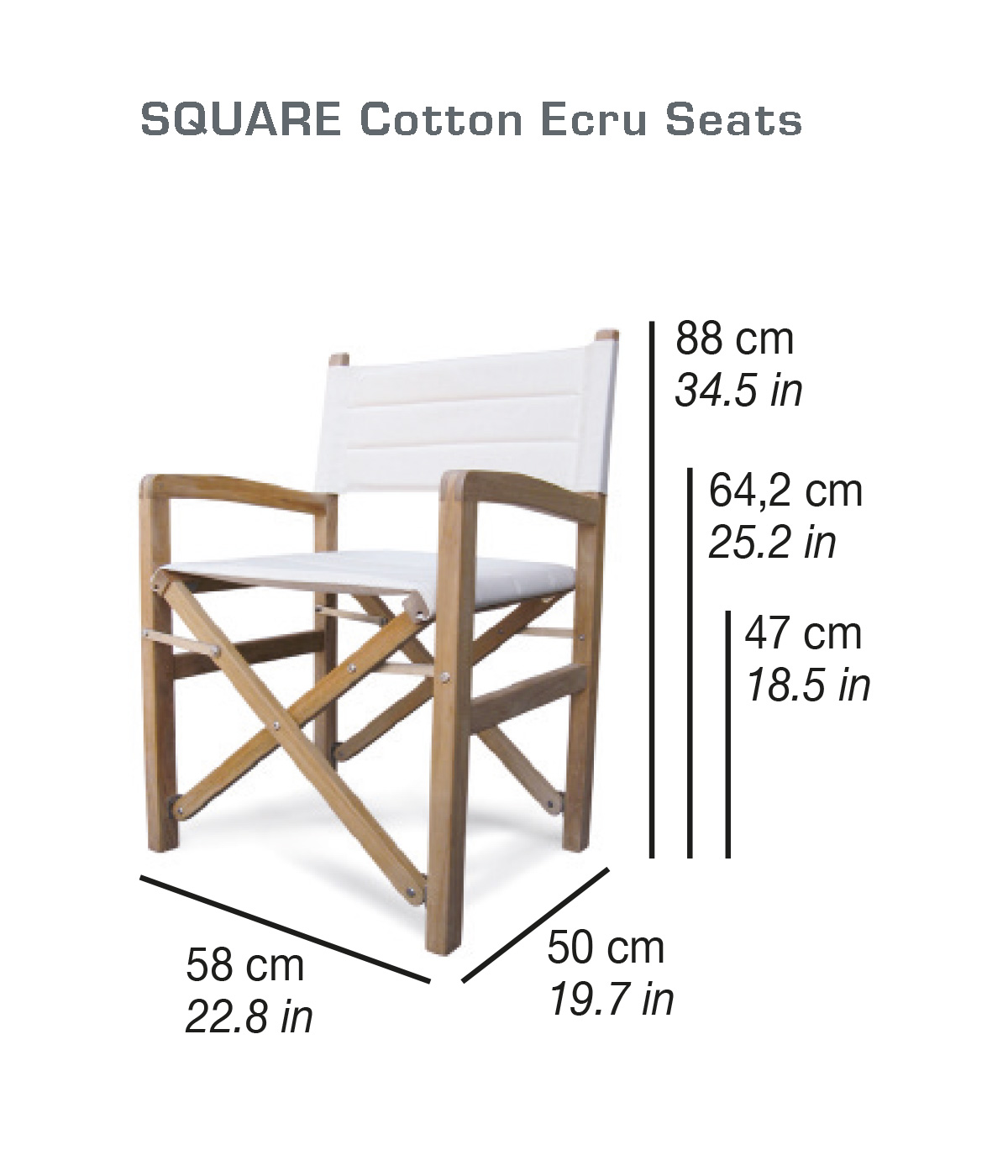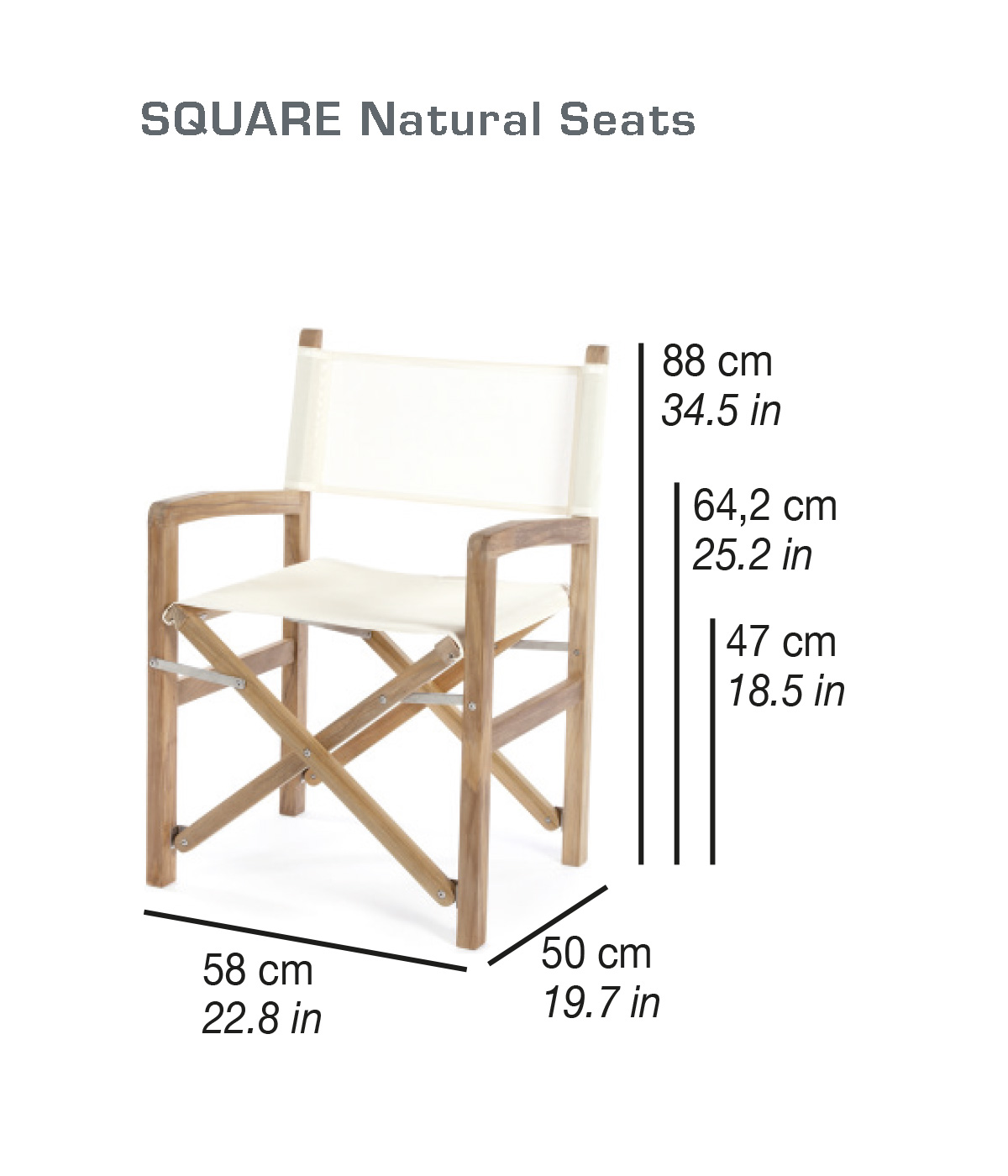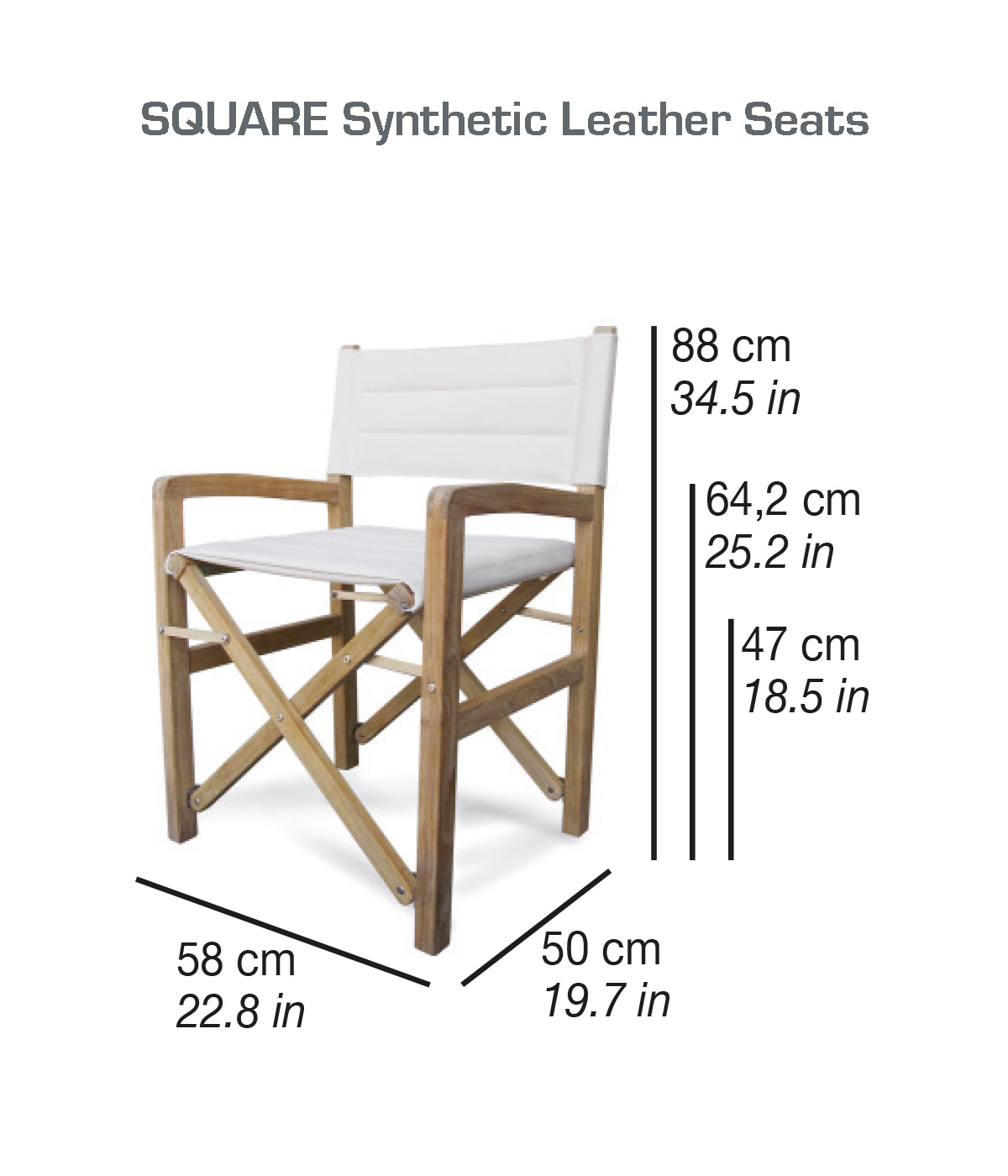 Materials & Technical data
| | |
| --- | --- |
| Structure | Teak |
| Seat / Backrest | Cotton / Synthetic Leather / Natural |
| Removable fabric | Yes |
| Hinges | AISI 316 stainless steel |
| Folded | cm 14 x 50 x 86,5 |
| Weight | Kg 5,5 |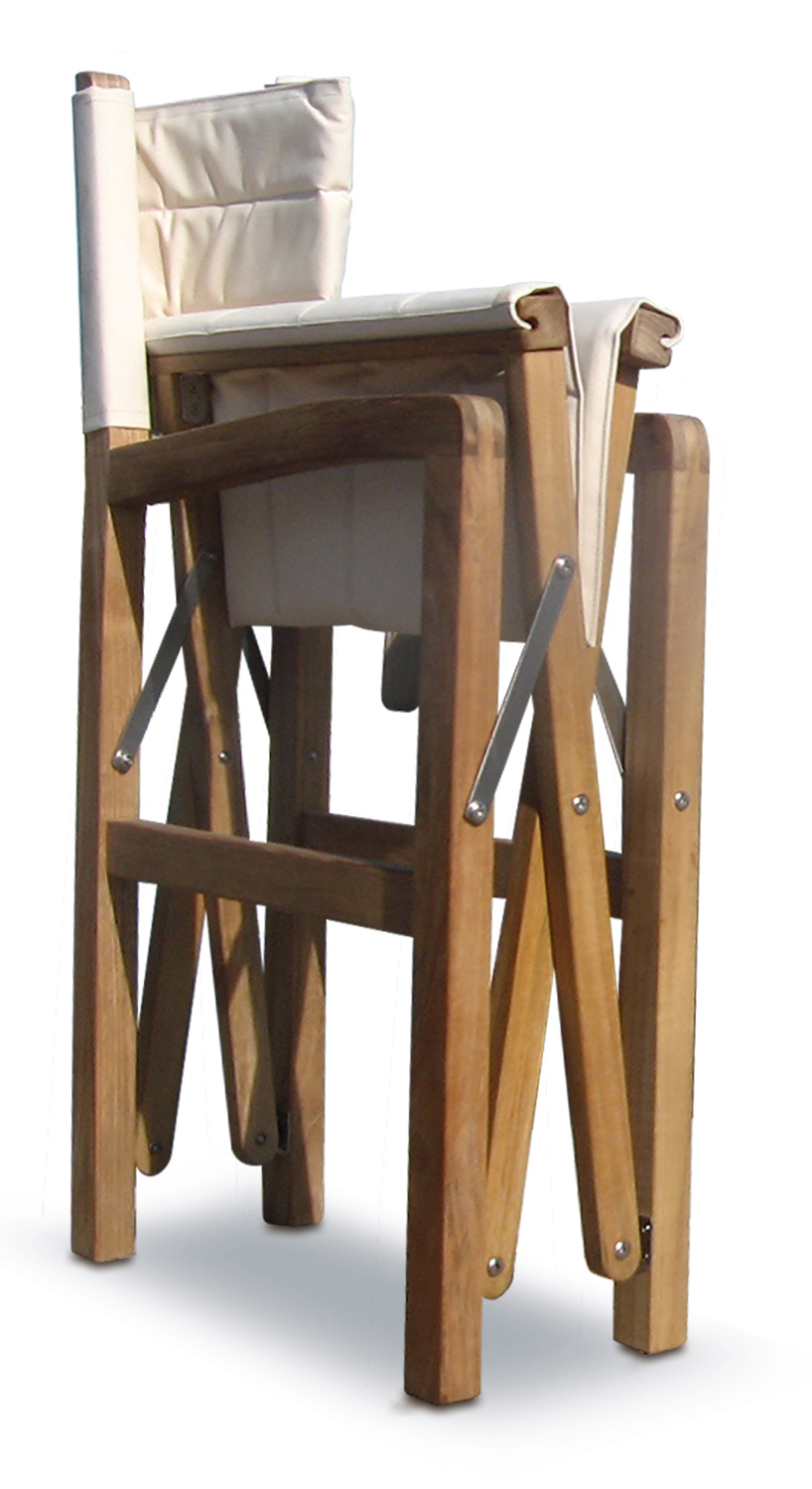 Customizations and colors on request

Many owners like to personalize their seats by reproducing the name of their boat on the backrests.
We offer this service with different solutions depending on the type of fabric and we are also able to create dedicated graphic designs.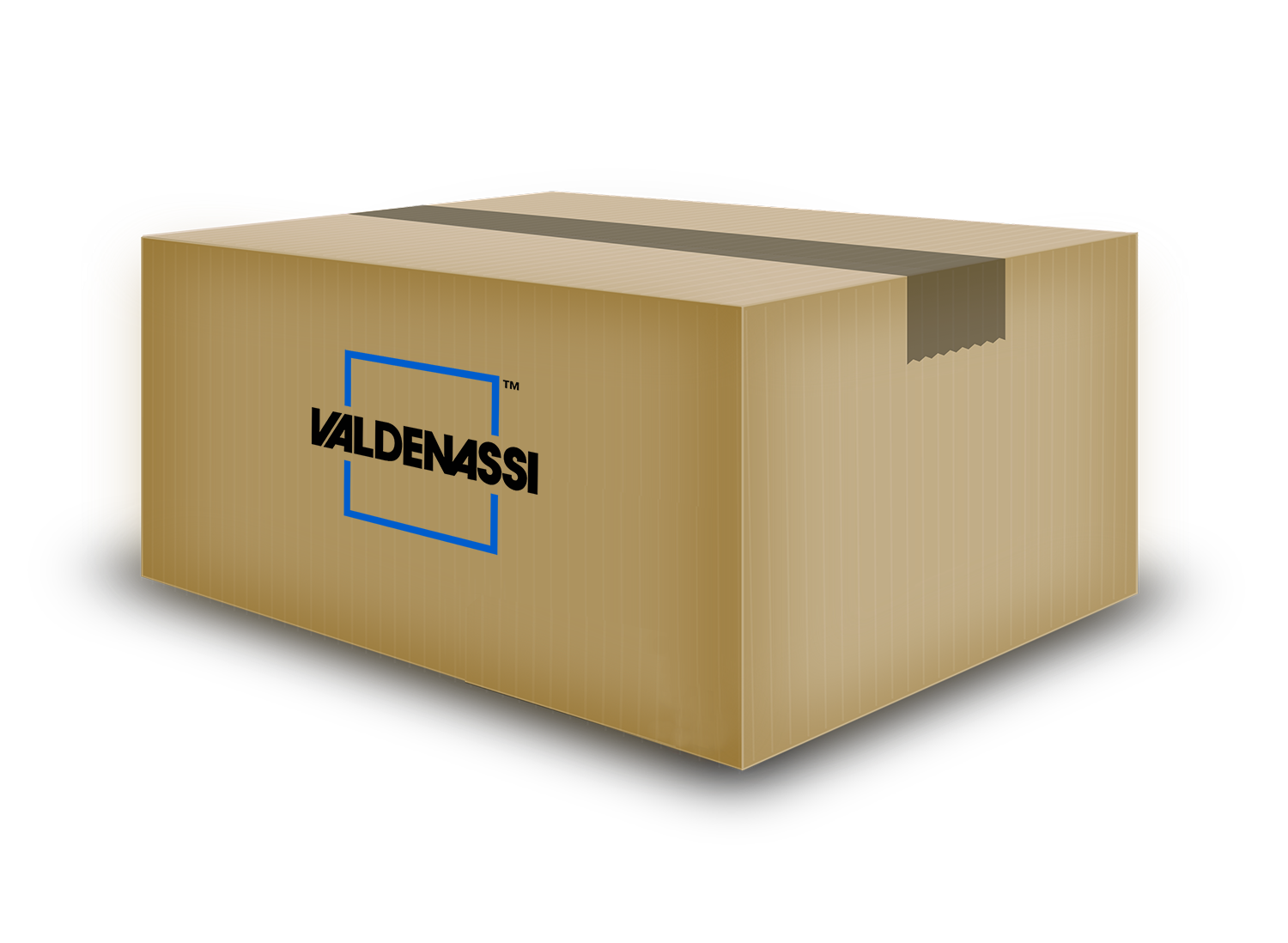 | | |
| --- | --- |
| Quantity | 1 pc |
| Weight | Kg 12 |
| Dimensions | cm 53 x 96 x 22 |
| Volume | 0,11 m3 |
Images and colors are approximate and provided purely as an example, not contractually binding.
The items may evolve over time or undergo minor changes without prior notice.